The Flex Forward strategy:
Getting workers to come in of their own volition
– Source: CNN
Big Tech has given workers an ultimatum: Come back to the office, or find a new job.
Elon Musk, Mark Zuckerberg and a host of other leaders of America's biggest companies have made it clear that their success hinges upon everyone working in person.
Autodesk isn't giving in to the peer pressure. But when peer pressure comes from some of the most successful companies, it's a big risk to swim against the tide, and it usually doesn't end well.
That didn't deter Rebecca Pearce, chief people officer at Autodesk, from experimenting with a different approach.
Under her leadership, in March, Autodesk, a multinational software company that makes tools for architects and designers, unveiled a hybrid-centric approach dubbed Flex Forward. Under the new program, managers hold the reins. They decide when — or if — employees need to come in to the office.
The woman who advocated for it
British-born human relations executive Pearce was one of the loudest voices at C-suite level meetings advocating for Flex Forward.
"I'm cursed with being a futuristic optimist," Pearce, who is based in Cornwall, England, told CNN.
Having spent most of her career in hybrid working arrangements across the globe, she knew she could be just as productive working from an office as she was working from anywhere else.
At the same time, she and other Autodesk executives wanted workers to come in to their offices, recognizing how important face-to-face interactions are for employees and for the company as a whole.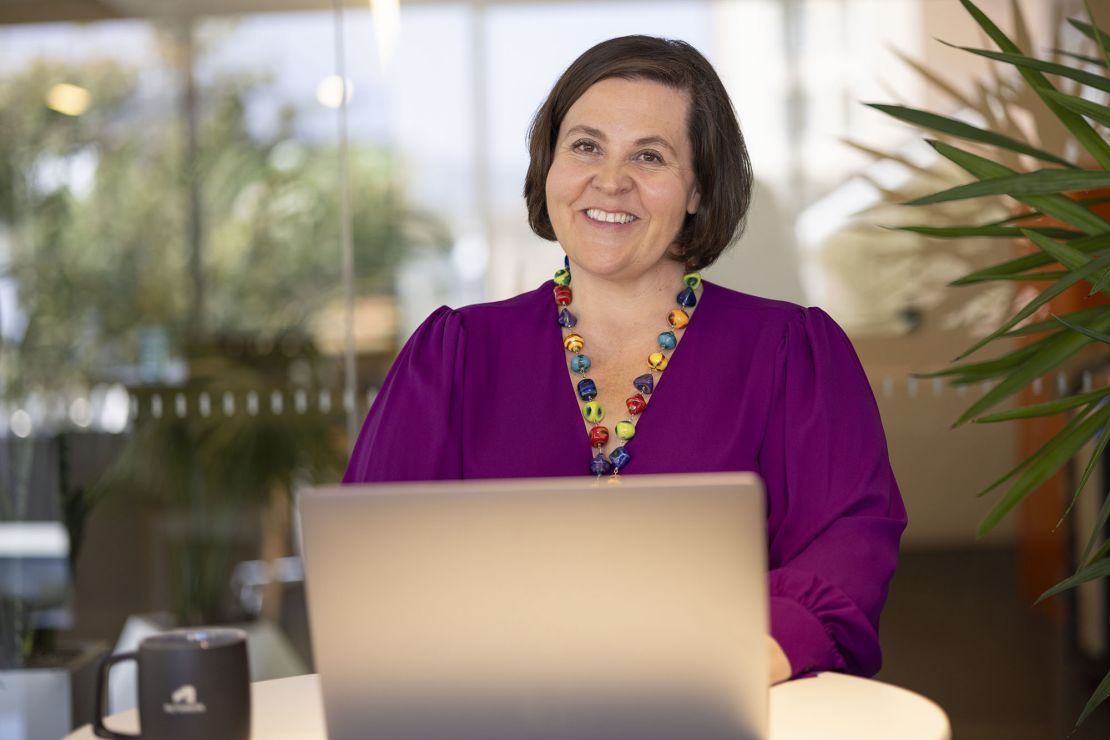 "There are some things that are just done better in person," said Pearce, who became Autodesk's interim chief people officer in January 2021 while the company searched for a permanent replacement for its prior CPO, who stepped down.
Pearce never expected to be considered for her role because no prior C-suite executive at Autodesk before her lived outside of North America, she said. "There were times when I just felt a huge sense of responsibility to prove that flexible working can work even at the most senior levels within the organization."
At the same time, Pearce faced little opposition when she made her case for Flex Forward, said Steve Blum, Autodesk's chief operating officer, noting that Pearce makes every effort to listen to employees' concerns throughout any decision-making process.
"Everyone knows when she presents anything, it's always been what's in the best interest of the company," he told CNN.
The strategy: Getting workers to come in of their own volition
After shuttering more than 90 offices worldwide in March 2020, Autodesk gradually began reopening for optional use in 2021 at different times, based on local regulations. But the company's 13,000 employees weren't in a rush to return.
Outside of Autodesk, it didn't take too long for return-to-office mandates to start piling up.
Tesla CEO Elon Musk ruffled quite a few feathers when he announced employees would be required to work in person five days a week in June 2022.
"There are of course companies that don't require this, but when was the last time they shipped a great new product? It's been a while," Musk wrote in a company-wide email. Those who don't like the policy "should pretend to work somewhere else," Musk said in a post on X, formerly Twitter.
But many companies have followed suit.
"Our early analysis of performance data suggests that engineers who either joined Meta in-person and then transferred to remote or remained in-person performed better on average than people who joined remotely," Meta CEO Mark Zuckerberg wrote in a March blog post. "This analysis also shows that engineers earlier in their career perform better on average when they work in-person with teammates at least three days a week."
Around 60% of JPMorgan Chase's workforce — including all managing directors — are working in person five days a week, CEO Jamie Dimon said in July. "I do not believe you can be a leader and not be accessible to your people," he said, adding that remote work "doesn't really work for creativity and spontaneity."
"When you're in person, people tend to be more engaged, observant, and attuned to what's happening in the meetings and the cultural clues being communicated," Amazon CEO Andy Jassy wrote in a company-wide memo in February. Among the many other reasons he gave for why Amazon would be soon be mandating a return to offices, Jassy said, "collaborating and inventing is easier and more effective when we're in person."
Autodesk wanted workers back, too. But it took a different approach. Autodesk commissioned a satirical video urging an employee who initially appears to be Zooming in to a meeting to join their employees at Autodesk's Portland, Oregon, office in April last year.
"You should come, you should come," an office-based employee says in the video. "This office is way cooler than anything you have at home, don't be a dork," an employee says to the Zoom employee, who appears to be anxious about coming to work in person again. Then they proceed to show him all of the perks around the office, including massage chairs and free snacks.
"We want people to want to be [at the office]. We do not want them to have to be forced to be there," Pearce told CNN. "At the end of the day, we don't believe that just being in an office is what helps people to be happy, productive, collaborative [and] innovative."
In theory, letting more than 2,600 managers who work directly with their employees call the shots sounded like a win-win. Autodesk employees were less likely to stage a massive walkout like Amazon workers did in May after the company began requiring employees to return to offices three days a week. The company also presumably wouldn't lose nearly half of its workforce, which is what happened to LGBTQ dating app Grindr after it announced a return-to-office mandate.
However, the program risked letting all employees work from home or any other remote location. And that would have left Autodesk with unused office space and leases that wouldn't be up for renewal for years.
But, Pearce conceded, "we are going to say to employees from time to time, 'Hey, we think you need to be here for the next few months in person because it's going to accelerate your success and it's going to accelerate our success.'"
Nevertheless, Pearce was not keen to give the appearance that Autodesk was looking for "an easy way to get talent" through offering such a flexible and attractive work arrangement, she told CNN.
Intentional office gatherings
Ahead of instituting Flex Forward, Autodesk was "rethinking our office footprint," Blum said.
For instance, Autodesk closed its San Rafael, California, office; consolidated it with the San Francisco headquarters; and started subleasing some of its office space.
---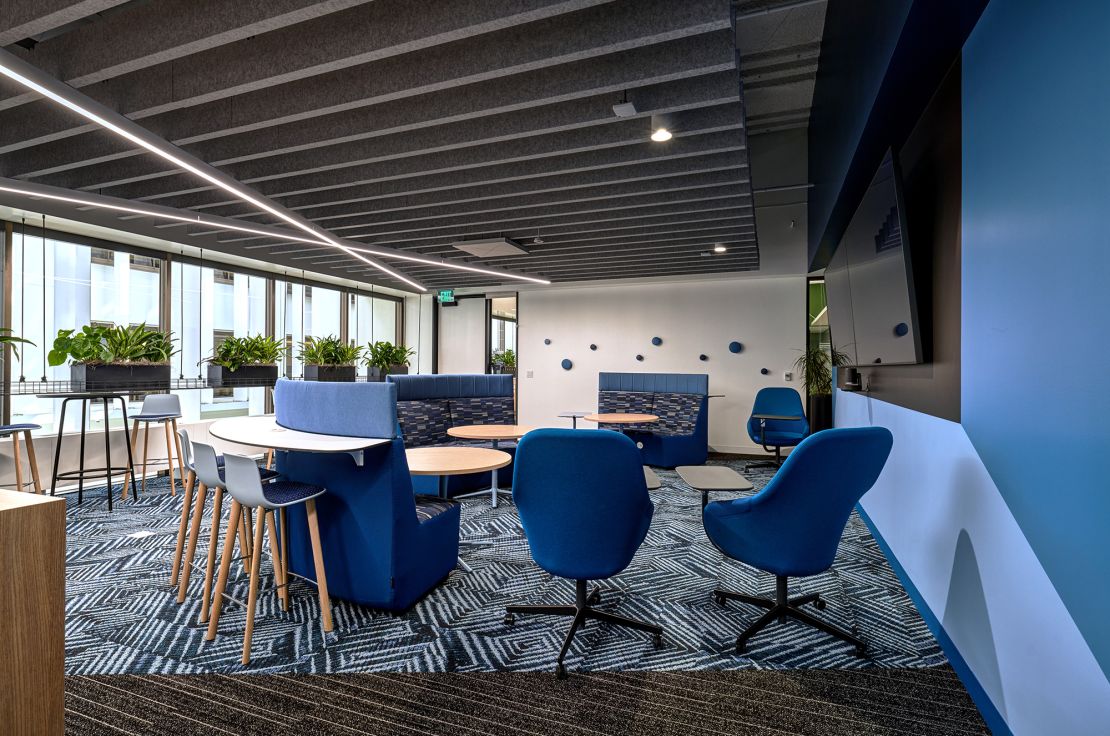 The company also redesigned many of its remaining spaces to shift away from cubicles and individual work spaces, which were 60% to 70% of Autodesk's office space, to ones that promote more collaboration. Or as Pearce put it, "intentional gathering."
Now, it's the other way around, which makes it possible for off-site meetings that previously were held at hotels to happen in-office, said Pearce.
"It actually is a more beneficial use of the space and a more cost-effective way of doing these meetings," said Blum. "It's this constant experiment of sorts."
Pearce has stopped worrying how Flex Forward makes Autodesk look in the eyes of companies competing for the same talent. The results speak for themselves, she said.
---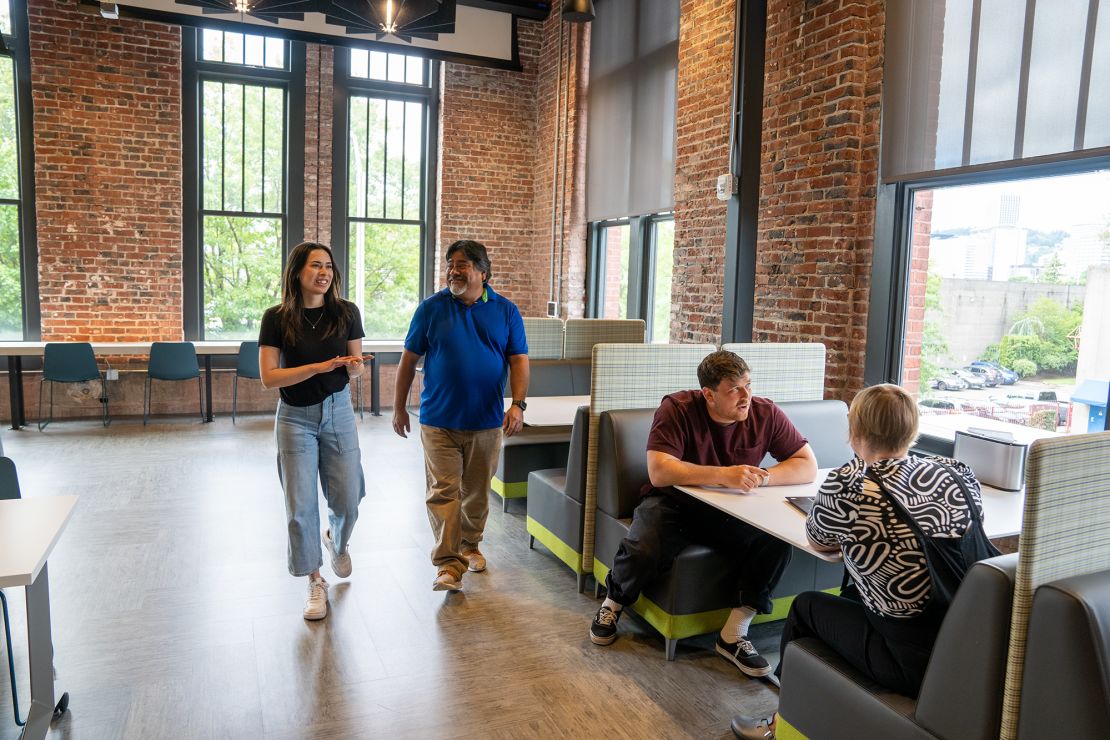 ---
Voluntary attrition rates are down 7% year to date, compared to the same period a year prior, according to internal data Autodesk shared with CNN. Additionally, Autodesk job postings received 400% more views after Flex Forward was announced.
In particular, they're seeing a surge in female applicants and candidates who identify as people of color.
A struggle not to be seen as "that remote company"
At the end of the day, "we want people to want to work for Autodesk because of what we do and because of our culture," said Pearce.
But, increasingly, the talent acquisition team is seeing more candidates apply for openings because they view Autodesk as "that remote company," Pearce added.
"There's absolutely nothing wrong with wanting to work for an organization that provides for that kind of hybrid working," she told CNN. "But we wouldn't want that to be the only part of our employee value proposition."
That does mean hiring managers have to be more discerning in selecting quality candidates. But, Pearce said, it's "a nice problem to have."