Are you prepared for the coming US/Domestic Relo/HHG "clean & safe" launch? 
Publisher & Broadcast Host,
ED COHEN
CONTACT
(+1) 619.787.3100
GLOBAL  PR   This is our mission. 
Bringing business people together from across industries and across silos, from across borders, time and from across cultures; enabling idea exchange, learning and connecting; then keeping them informed​.™ 
"It's time to ask clarifying questions;
clarify roles, responsibility;
focus on goals.
THINK ABOUT
WAYS-AROUND
EACH CONSTRAINT.
It's time to RESET,
RE-IMAGINE,
REVIEW
and
RECONNECT
on a deeper level to better understand and better serve the
EXPANDED,
DIFFERENT NEEDS
of our
BEST CUSTOMERS."
EXCELLENT
SERVICE
to
MEMBERS
Collaboration – Cooperation – Connection
To be able to continue providing essential services to our customers during times of transition and change, our industry relies heavily on collaboration, cooperation and connection among disparate service providers.
All stakeholders have to seamlessly work together for door-to-door moving, relocation and mobility-related services to efficiently run. Knowing which service partners to tap in the exact geolocation required must be a core competency of any professional moving and relocation services provider.
The mission of IAM Mobility Exchange (IAMX), to be the Universal Service Provider Directory for the moving, relocation and mobility services industry, is central to our industry's success.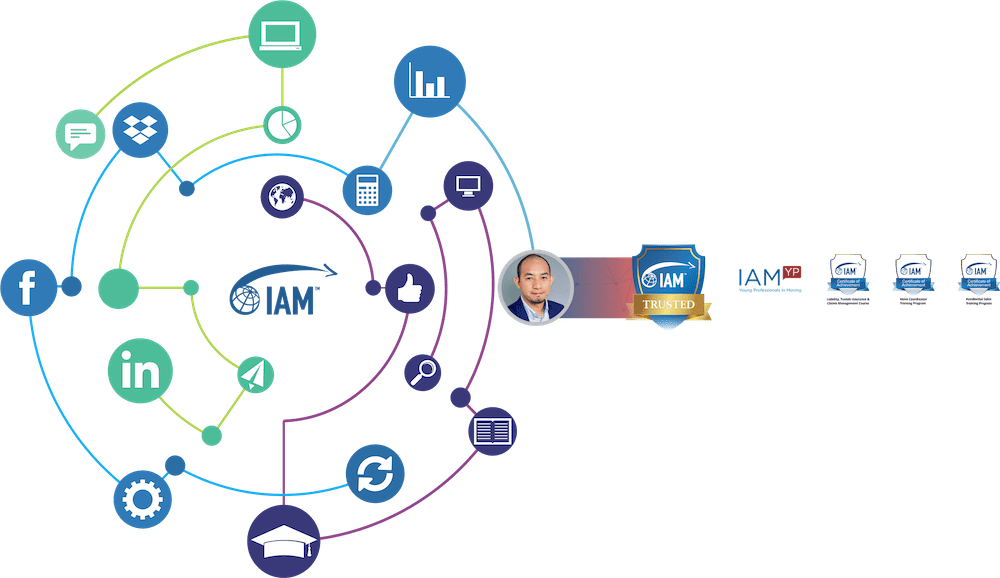 SO… TUNE-INTO MY CONVERSATIONS
CHARLES "CHUCK" WHITE
President, International Association of Movers
JACK  JAMPEL 
HR Senior Manager Global Mobility  
"You get more out of life by giving more of your life to others"
Passion for Mentoring
ROGER  SORHAGEN
Vice President National Account Sales/Global Mobility Specialist 
SANDRA  CLARY
Enterprise Database Corporation
Director of Business Development 
Mover and Mobility Solutions
Client Engagement
Strategic Business Growth
Technology Solutions & Development
Connecting companies. Simplifying business. Securing success.
Computer Software;   Gainesville, Virginia
JIM  WALSH
Founder and CEO
https://www.linkedin.com/in/relojim
Enjoys using disruptive technologies and best-in-class customer service to deliver unparalleled value to major moving companies and corporate relocation specialists nationwide.
ALPHONSO 
DENNIS   
D&I Champion 
Change Agent
Author
Father
Servant Leader
Dallas
linkedin.com/in/togetherwearethesolution
Alphonso served as senior leadership at The Hershey Chocolate Company.
Loving the iconic Kiss, he helped design and implement the first diversity training in Hershey's history while co-leading the charge to eclipsing the 1$Billion revenue benchmark.
After completing post-graduate studies, Alphonso enjoyed an award-winning period of service at Liberty Mutual Insurance.
His confidence is rooted in authenticity as he refuses to compromise. The quality of one's communication is directly correlated to the quality of the desired result. Alphonso seeks first to understand and include.
Together, we are the solution.