"If I assume that my experience of the last 25 years is what's going to help me be successful in the next few, I'm wrong! Let me tell you! That experience is becoming less and less worthy.
What's important is how are we learning the new things we need to get capable and get ahead of the changes we're seeing around us."
—    Leena Nair, Chief HR Officer at Unilever; LinkedIn Top Voice 2018
---
CURATING the GLOBAL BUSINESS
of MOBILE TALENT
---
18 SEP in NEW YORK
Wall Street Briefing

REGISTER 1 @$250  BUT SAVE $100 Ed's price $150/person.. scroll-down see the info
---
TIME   11 to 4 +reception
---
4 MAJOR ACTIONS REQUIRED BY LEADERSHIP to ACCELERATE PERFORMANCE 
---
BRANDING, MARKETING & GLOBAL HR'S ROLE
---
RELOCATION ADVOCACY
---
CRISIS MANAGEMENT; What Not To Do
---
RECEPTION / COMMUNICATOR AWARDS
---
Venue: 15 GOLD Street, NY 10038 (Platt St/Maiden Ln) 
Back Story:   
Deep within the Tuscan countryside, in Via della Maulina, one of the world's most noteworthy areas of high quality wine production, lies a sprawling 19th century family estate, Fattoria Sardi. The three elegant wines produced there — Felice Bianco, Rosso and Rosato — embody the essence and flavors of the Italian countryside.
Jacopo Giustiniani opened the first FELICE wine bar in Manhattan's Upper East Side in 2007 so New Yorkers could share the spirit of his homeland and the wines of his family's vineyard.
Felice reflects the soul of Italy, inspired by the sophisticated streets of Florence and the rustic warmth of the Tuscan countryside.
Our menus offer a delicious variety of seasonal Italian fare, using only the freshest and highest-quality ingredients.
REGISTER 1 @$250 

BUT SAVE $100 
Ed's price

$150/person



IMPORTANT  QUALIFICATIONS:
Must register before SEP

1

Must gather a group;

could be just 1 more

or multiple, all will save $75/person. As a courtesy service we offer individual invoicing; cards preferred; receipt immediate.
All Fees include the MBA-style education course & materials, business intros, delicious lunch, reception.
EASY & SECURE REGISTRATION 619.787.3100  (text/talk)  OR email   publisher@globalbusiness.media
---
 AGENDA  PROGRAM 
 11,  YOUR TAKE-AWAY COUNTS WITH ME
Ed Cohen
Content Developer & Curator- Moderator

Global Business Editor, GLOBAL HR news 
Broadcast Host, GLOBAL RADIO talkshow.com
---
11:15  – Keynote workshop
LEADER DEVELOPMENT for GLOBAL BUSINESS in the coming DIGITAL ERA 
4 MAJOR ACTIONS REQUIRED  PERFORMANCE EXCELLENCE
Practitioners are not impactful because they haven't changed the narrow professional view they have of their work and how they can be more effective

Philip Berry  on Leader Development as we enter the digital era and tied-in with that, the role of personal branding…and how to get to a "win".
ABOUT:  
His deep background and crystal-clear insight comes from many years in C-level Global Human Resources with Colgate-Palmolive where he was Global HR executive overseeing 60 countries.
He currently is also a Trustee of a major university. Philip Berry was also CHRO of the Clinton Foundation.
All of that deep experience and combines now with the past few years as an executive coach and consultant to business leadership, providing clients with keen insight.
The focus of his practice is to enable individuals, team and organizations to tr
ansition into increased levels of effectiveness and impact from their current situation .
Philip Berry says:   "We do this through Executive Leadership Coaching; Personal branding and Rebranding; Organizational Effectiveness; Diversity and Inclusion; Unconscious Bias Efforts; Global Cross Cultural Competencies; Talent Development and Innovation Initiatives."
PHILIP BERRY
President
PHILIP BERRY & ASSOCIATES and author

---
12:30      LUNCHEON  PROGRAM 
How to be a RELOCATION ADVOCATE
---
C R I S I S 

HITS YOUR COMPANY
Learn what NOT TO DO …
Learn to PROTECT YOUR

BRAND
+ YOUR REPUTATION 
---
2 to 4   …  AFTERNOON PROGRAM   
FIX  TALENT  MOBILITY
…BUSINESS TRAVEL & RELO   
Moderator:  Ed
FACULTY WILL INCLUDE…
LaShell Tinder, GPHR, GMS, SSG
Global Mobility Manager – North America
ABOUT LaShell:    Over 20 years experience in project and change management, global mobility, business development, training, and HR services. Credible partner in building relations with colleagues, customers and vendors with a dedicated focus on the client and employee experience. Demonstrates breadth and depth of experience in assignment management, immigration law, expatriate tax compliance with a particular focus on LATAM, policy development, client engagement and implementation, domestic relocation, career and transition couching & counseling, and General Data Protection Regulations (GDPR). Project management experience implementing assignment management system for global operations. Procurement management and vendor selection experience, both from vendor support services and corporate role. Strives to be a thought-leader in any environment and looks for strategic approaches to achieve results and add value when working with customers, vendor partners, and colleagues.
She has developed culturally agility and a global mindset while living abroad and gained fluency in Spanish. She has "walked the talk" as an accompanying spouse on international assignments, transferring every 2-3 years within Europe and Latin America for 11 years. She has volunteered in a number of capacities including Cub Master of a Cub Scout Pack of 110 culturally diverse scouts and leaders, produced and published 5 school year books, and was deeply involved in expatriate groups to help newcomers with their own assimilation process.
Avid traveler and lifelong learner able to manage ambiguity well.
ABOUT THE COMPANY:   As one of the world's largest fashion companies with more than 171,000 employees worldwide, H&M is an exciting and dynamic place to pursue a career within the fashion industry. Our business concept is to offer fashion and quality at the best price in a sustainable way and with our fast expansion we are always looking for new talents. Would you like to be part of our team? H&M group comprises of nine independent brands: H&M, COS, Weekday, Cheap Monday, Monki, H&M Home, & Other Stories, ARKET and Afound. We have over 4,100 stores across more than 66 markets worldwide. Our values reflect the heart and soul of H&M. They define what it takes to work here and how we do things. When we interact with colleagues and customers around the world, our values help us develop and grow. We want to be at the forefront of both fashion and sustainability. Our employees play a key role and can contribute to more sustainable fashion, today and in the future.
---
Se
lena Rogers
---
M
ichael Witowski
Vice-President

---
Rolanzo Kinniebrew
---
Jon Michael Pardo, IPMA-SCP, SHRM-CP
Senior Vice President and CHRO for North America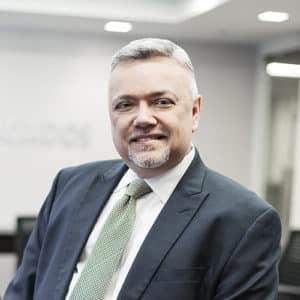 DRAGADOS USA INC  (dragados-usa.com)  specializes in heavy construction including the building of Tunnels, Highways, Dams, and Bridges in North America. It is a member of ACS Group's Construction Division. Active participation in the sectors essential to the economic and social development of any developed country, such as infrastructures and energy.
---
From HISPANIC EXECUTIVE magazine: "Making HR the Cornerstone of Dragados USA, Jon Michael Pardo assembles a workforce that allows the construction company's employees to flourish".

"In college, I started taking courses in business and finance," shares the senior vice president and chief human resources officer (CHRO) for Dragados USA. "One semester, I took a human resources management course. I liked it, I learned new things every day, and that's what I like most about HR—it's always changing and bringing new challenges. I knew this would be a good opportunity for me."
Over the past twenty-six years, he's developed a passion for his work and is energized by the chance to match the right person to the right job and help that employee flourish. "I provide training and education to develop an employee's abilities," Pardo says. "I meet with them to see what I can do to make their job better and support them in the organization."
The same holds true for contractors, who may also need guidance. "Anything you do in life, you have to like it. You have to have a passion for it," he says.
Pardo and his parents, Ramon and Miriam, left Cuba in 1968, initially landing in Puerto Rico before moving to New York when Pardo turned sixteen. He attended St. Peter's University and then earned two master's degrees in business administration, one from New York Institute of Technology and the other from Liberty University.
After the Army, he worked in other fields, including pharmaceutical, biotech, and healthcare. It was at Christ Hospital that Pardo met his greatest mentor, Robert Parker, vice president of HR at Christ Hospital in New Jersey. Pardo worked at the hospital for ten years, starting in benefits and compensation before eventually moving to employee and labor relations. "Robert showed me what to do, the dos and don'ts in HR. He was a great mentor," Pardo says.
In 2016, he joined Dragados, one of the largest construction companies in the world, building bridges, tunnels, and nearly seventeen thousand miles of roads and highways.
Based in Spain, Dragados opened offices in the US eleven years ago. Pardo shares that the company has grown 40–60 percent per year since then, with a workforce near two thousand employees further underscoring the value of HR. "If you don't have significant reliance on HR as a foundation for growth, you will fail in becoming a leader in your industry," he says.
While he admits that the construction industry has been slow to change, the days of paper pushing in HR are quickly fading. "HR has seen a switch from a traditional personnel department, focused on payroll, hiring, and firing, to a business partnership with a seat at the executive level," Pardo explains. "We've been given a variety of tasks, serving as administrative officers and overseeing different functions within the organization through an HR realm bringing the enterprise to the next level of efficiency and effectiveness."
The root of this change, he adds, was the ability to meet the demand necessary for business to flourish. Industries like construction, where there is a lot of turnover, had to find ways to retain employees and develop the workforce from within. Employee development is the current way that many companies are doing so; many companies are using  benefits, compensation, and training to ensure that a job doesn't last for only the length of a project, but can be extended to the next project and beyond.
"When we first started working with Jon, he wanted us to find people that wanted to come to Dragados for a career, not just a job," says Mike Anderson, CEO of MEA Strategic Solutions. "He wanted people that would invest in themselves."
One tool at Pardo's disposal is that the federal government requires companies to show that they've made an effort to cast a wide net for employees and contractors.
He admits that achieving this goal has made his job more challenging—but in a positive way. "New laws require us to have small business opportunities to take advantage of contracts that before were not there. They have grown a lot of opportunities for minorities and women," he says. A famous example is Linda Alvarado, owner of Alvarado Construction and co-owner of the Colorado Rockies major league baseball team.
"Companies are realizing the value HR brings to the table," Pardo says. "HR was just a necessary function, a requirement that companies were not fond of. It didn't have value until it was brought in on planning to curtail turnover and improve retention. Senior management has recognized that they need to have the HR function as the cornerstone to build a company."
---
 3 – 4 
Mobility and Tech
"Alignment of mobility programs with underlying talent and reward strategies is essential to making mobility work.
Too often, mobile talent doesn't succeed; they end up under performing, stalling out in their careers and/or turning over" 
Stacy Jorgensen
Principal at Mercer – Tech
Vince Cordova
Principal at Mercer – Global Mobility
---
4

Publishing Reception

presents the

C O M M U N I C A T O R   
AWARD
to
FIONA CITKIN, PhD, author

---
---
---
---
GET MORE INFO FROM
  Ed Cohen  -Global Business Editor, GLOBAL HR NEWS  Broadcast Host, GLOBALRADIOtalkshow.com  619.787.3100  OR  publisher@globalbusiness.media