GlobalTVtalkshow and GlobalBusinessNews.net
present
CHRIS EXLINE, now living and working in Ukraine
March 21, 2023
Home Essentials – Update – Ukraine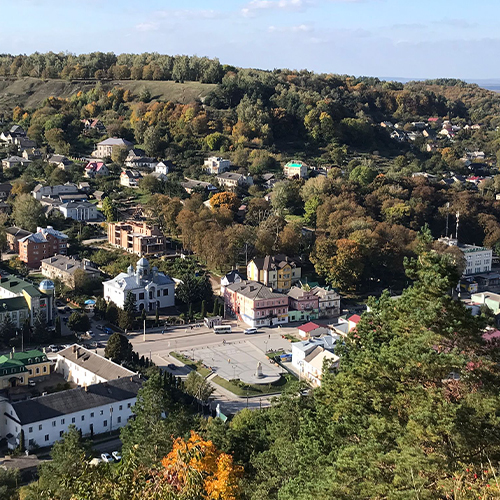 Ukraine's spirit & bravery against seemingly unassailable odds inspired the world.
Their continued success focused many to postulate what a post conflict country would look like and the mechanics of rebuilding. Drawing from our position as the largest furniture rental company outside the USA and our experiences with post conflict reconstruction in Afghanistan, Iraq, South Sudan, and others convinced us that Home Essentials could introduce the concept of furniture rental along with meaningfully contribute to rebuilding effort.
Home Essentials is proud to be the 1st MNC to open in Ukraine since the war began. To support our supply chain, we acquired the capacity of a mattress factory in Kremenets (a small town of 20,000 people, unemployment at 40%, most of the men on the front lines, and 3,500 refugees).
Confronting the need before us with the internally displaced, we worked with the mayor and city council to donate mattresses to the refugees.
Once started, people began asking how they could assist. Encouraged by this along with wanting to involve others, we created Rest Assured.
Rest Assured allows people to donate $100 USD per mattress (the balance subsidized by Home Essentials).
We then affix a label to the mattress with the donor's name, and I personally deliver it to the refugee (w/ a photo).
Very transparent & accountable.
It is extraordinary to the see expressions on the face of people so grateful to just receive something as simple as a mattress. We are meeting people at their basic place of need. Never in my career have I been a part of something this rewarding.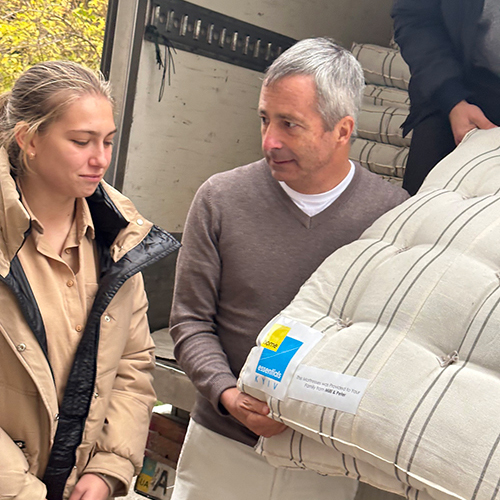 Rest Assured has donated 2,000 mattresses.
Tragically, continued aggression and upcoming offensives do nothing to decrease the # of refugees. Our efforts have generated requests from other cities as acutely affected as Kremenets.
We have an immediate need to deliver 2,000 more by early May to other cities and regions.
The war is real. The people are real.
The millions of lives disrupted and destroyed by this act of aggression are real and horrific. In our town of Kremenets, 31 heroes have paid the ultimate price for freedom – freedom of assembly, choice, speech, and most importantly, the freedom to exist.
Allow me to thank those who have reached out in support of what we are doing.
Contributing ideas and mattresses has been a wonderful way to reconnect with many of you.
Your generosity is deeply appreciated.
I covet your continued interest and participation.
If you did not already know, I moved from Hong Kong to Ukraine last October.
Becoming a part of this small town and amazing country affords me a unique, on-the-ground perspective.
When making the decision I wanted my actions to be my statement.
Tell me your thoughts; I listen.
Please contact me with your questions and your suggestions.
 chris.exline@homeessentials.net.
Thank you.
BROADCAST AUDIENCE 
via
GlobalTVtalkshow.com   GlobalBUSINESSNews.net   GlobalRADIOtalkshow.com 
 youtube,com/@GlobalTVtalkshow    linkedin.com  twitter   instagram   facebook
TOP  AUDIENCES   2023 January 1 – March 22
US + Canada + Mexico + Brazil
APAC:  Shanghai +Beijing +HK +Singapore +Taipei +Manila +Thailand +KL +Japan +Australia/NZ;
EUROPE:  UK +Ireland +Germany +Belgium +France +Netherlands +Sweden +Spain;
India
Russia
Source: GoogleAnalytics
(audience overview; country volume arranged intentionally by Editor to display regional/group penetration)
Offering business introductions + professional public relations training + applications for personal/business use across subscription timeframe… providing all member/subscribers Total Satisfaction 100% money-back guarantee on PR services/product delivery;
click logo for complete info
Become a member…  Annual Subscription Membership $1.88/day